"Soul Injury – Liberating Unmourned Loss & Unforgiven Guilt"
September 28, 2017 @ 2:30 pm

-

5:00 pm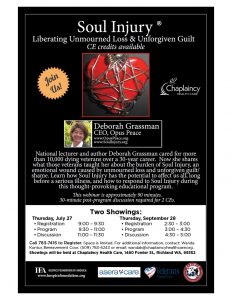 Join us for a special showing of Soul Injury. National lecturer and author Deborah Grassman cared for more than 10,000 dying veterans over a 30-year career. Now she shares what those veterans taught her about the burden of Soul Injury, an emotional wound caused by  unmourned loss and unforgiven guilt/shame. Learn how Soul Injury has the potential to affect us all, long before a serious illness, and how to respond to Soul Injury during this thought-provoking educational program.
Continuing Education credits are available. The film is approximately 90 minutes. 30-minute post-program discussion required for 2 CEs
Registration  2:30 p.m. – 3:00 p.m.
Program        3:00 p.m. – 4:30 p.m.
Discussion   4:30 p.m. – 5:00 p.m.
Call (509) 783-7416 to Register. Space is limited. For additional information, contact: Wanda Kontur, Bereavement Coordinator ( 509) 783-6243 or email wandak@chaplaincyhealthcare.org
Related Events